Silver is an essential metal in many religious services, from Catholic to Buddhist. We've been honored to work on sacred pieces from almost every faith.
The arrival of spring is an exciting time for us, and we know it is for you, too. We are finally seeing blossoms on the trees and wildflowers pop up, along with bluer skies and warmer weather. We're thrilled!
These spring days and the approach of Easter reminds us of the stories that Alex Biro told of their travels from Hungary to Eastern Europe to Canada and then to California. Alex found work where he could at different points of the trip, making miniature ships for the Hungary State Mint to individual family crests. In Montreal, a priest at a Catholic church commissioned Alex to craft silver tabernacles and chalices for the congregation.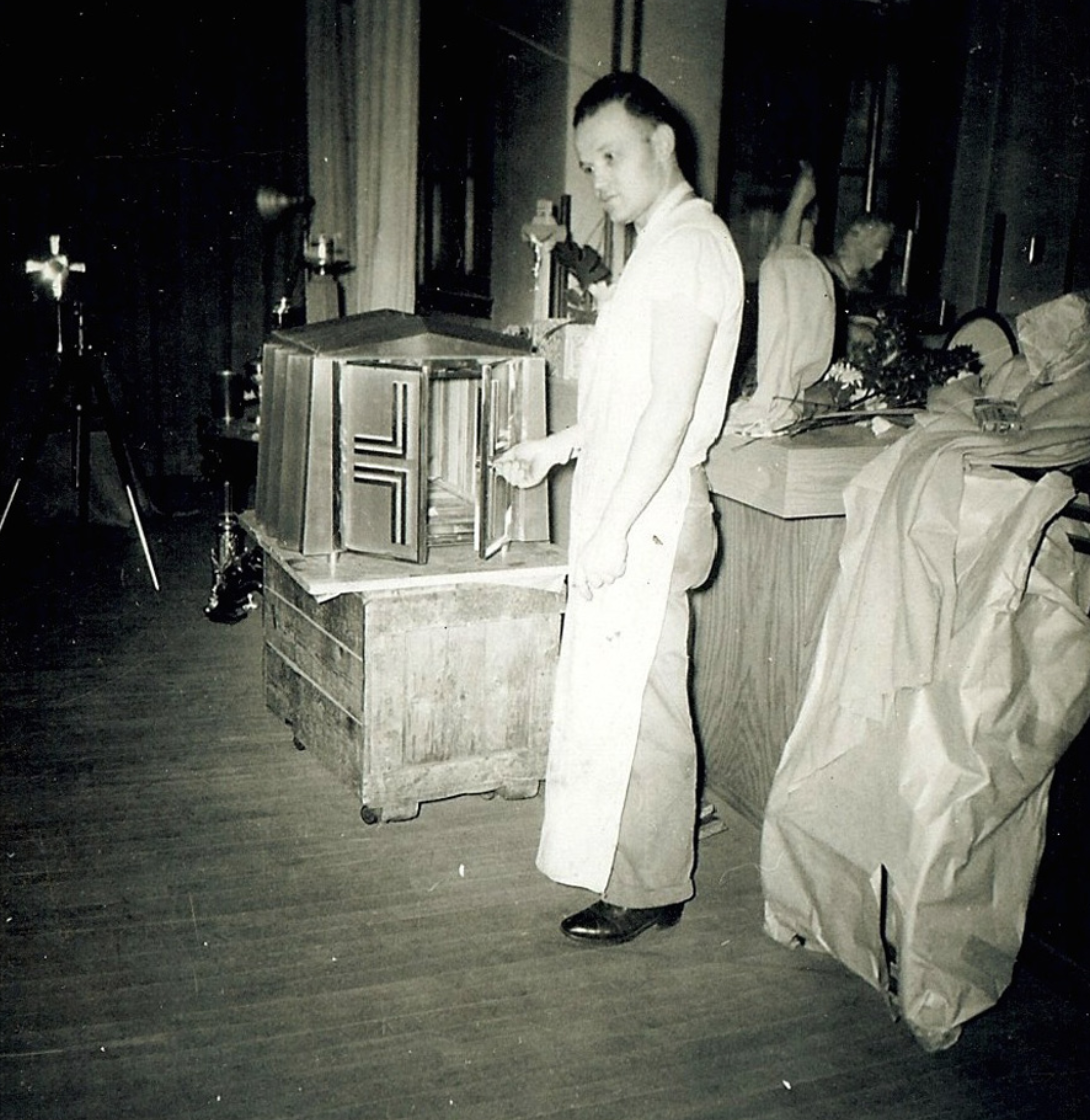 This photo of Alex hangs in our shop, reminding us of those days.
Creating, repairing, restoring, and polishing religious objects takes exceptional skill and craftsmanship. Each piece carries significant historical importance and often comes with a long list of rules and guidelines. 
During our history in San Francisco, we've been fortunate to work with many of the religions in the area. It's humbling that religious leaders trust us with these spiritual treasures, and we've learned how silversmithing contributes to the sanctity of spiritual and religious objects.
Here are just a few of the things we've learned.
Sacred Vessels 
When a Catholic takes Communion, the cup and plate holding the Eucharist's wine and bread are stored and presented in sacred vessels, including chalices, patens, ciboria, pyxes, and monstrances. The Catholic Church has precise rules about what can be considered a "sacred vessel" and how they may be used in liturgical celebrations.
According to the Catholic Church's General Instruction of the Roman Missal, "Sacred vessels are to be made from precious metal." Precious metals are gold, silver, platinum, and palladium, although there are times when local parishes can ask for an allowance to honor the customs of their region. In the United States, sacred vessels are created from ivory, ebony, or hardwood. The key is that the material must be suited to sacred use and not easily deteriorate. 
TIBETAN RITUAL ITEMS
In the practice of Buddhism, the primary religion of Tibet, Tibetan ritual items are used daily. Prayer Bells and Djores, an intricately designed complement to the bell known as a thunderbolt that symbolizes the jolt of enlightenment, are often crafted from silver. During the prayer ritual, buddhists place the Djore in their right hand and the prayer bell in their left hand to symbolize the female element of wisdom. 
Jewish Ritual Objects 
Silver represents the perfectly righteous, who funnel divine "light" into the mundane world in Judaism. Many of Judaism's Ritual Objects feature silver of all grades.
In Jewish practice, these beautifully crafted Ritual Objects are known as Judaica to honor the concept of hiddur mitzvah or the beautification of the mitzvah. The Kiddush Cup is often made of silver and used for making Kiddush, the blessing over wine or juice recited at the beginning of most Jewish holiday meals. Silver spice boxes hold aromatics (cloves are common) sniffed as part of the Havdalah service ending Shabbat. 
Happy Spring 
No matter how you celebrate the season, we wish you beauty and renewal. And remember, now is the time for a little Silver Spring Cleaning, so check out our post on Cleaning and Storing your Silver.